Bloomberg Dollar Spot Index (BBDXY)
28 April 2023 | By IFA Global | Category - Market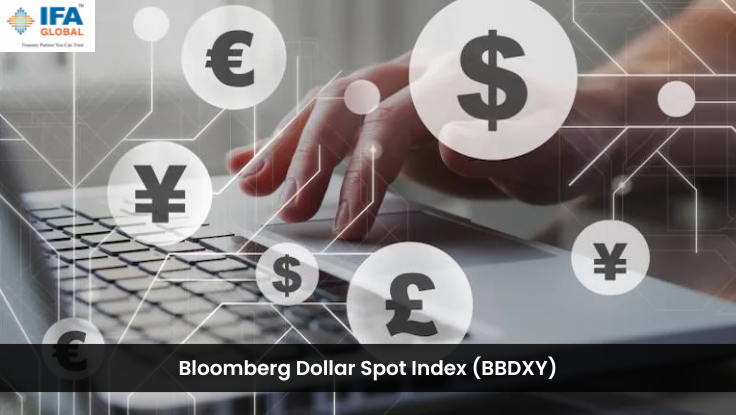 KEY LEARNING POINTS
BBDXY – A more dynamic substitute for our classic Dollar Index (DXY)
Composition and benefits
Correlation of BBDXY with DXY and USDINR
BBDXY – An appropriate index for tracking?
The classic ICE U.S. dollar index (DXY) has been the benchmark to gauge the USD's strength against other major currencies of the world economy. However, it has remained quite stagnated in its approach amidst significant changes in the global economy and international trade. The DXY comprises six major currencies (EUR, JPY, GBP, CAD, SEK, and CHF), with most of its weightage given to EUR. These six currencies have remained consistent in the index despite other currencies becoming predominantly more important in international trade. Currencies from other major developed and developing countries like AUD, KRW, CNH, and INR have become much more relevant than some of the older constituents of the classical DXY and therefore, DXY is not representing the actual strength of the USD.
Due to the changes in a modern international trade setup, the Bloomberg Dollar Spot Index seems to represent a more dynamic and holistic approach to showcase USD strength. BBDXY represents a wider basket of currencies (10 in total) and is rebalanced annually to capture our ever-evolving currency markets. This rebalancing depends primarily on the quantum of trade done with the U.S. and the liquidity of the currency to ensure that currencies like MXN and AUD rank higher than KRW.
The latest composition of BBDXY is: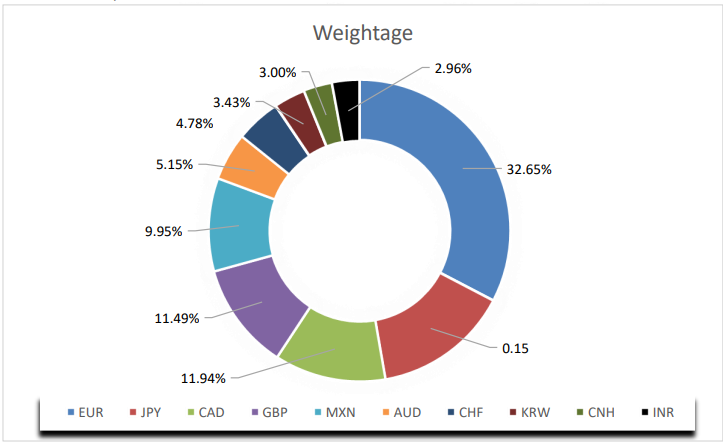 The correlation of BBDXY to DXY is vastly positive as expected given the overlapping constituents but when we consider the correlation of BBDXY to USDINR the correlation is marginally positive as the latter has a weightage of just 2.96% and has diverged from the global trend against the USD in the past few months. USDINR is acting independently of DXY and therefore follows the same trend against the BBDXY. One of the primary reasons for this is greatly the USD has fluctuated in recent times because of the rapid interest rate hikes by the FED and weakened at every instance when the markets have anticipated the FED to pivot or come out with a dovish commentary.

Even though both the DXY and the BBDXY have fallen from their recent highs of October 2022, USDINR has failed to follow the two. The primary reason for this is that INR is depreciating in nature against the USD as the average inflation in India has been persistently higher than that of the U.S. and the RBI's intervention at lower levels to build its USD reserves.

Given the dynamic nature of BBDXY and greater basket of relevant currencies, it provides a good alternative to measure the dollar's strength against its major trading currencies due to its dynamic nature and adaptability to the ongoing changes in international markets. It is, however, not the best tool to forecast INR movement with regard to the USD strength and various other fundamental factors could be considered over this measure.